This post was sponsored by Window Covering Safety Council as part of an Influencer Activation for Influence Central and all opinions expressed in my post are my own.
Our 9-month-old has started to pull himself up on his own, and it is only a matter of time before he is walking. As I think about him walking, safety is at the forefront of my mind.
As I look around the house, it seems as though there are hazards all over the place. From bookshelves and dressers that need to be anchored to the wall, to window blinds with cords that need to be replaced by cordless window coverings, we have a lot of work to do before our home is safe for our son.
Having a safe environment for my son to play in and explore is my number one priority. Babies enjoy investigating, and it is our duty as parents to make sure that they have a safe environment in which to do so.
This Spring, in addition to some good ol' spring cleaning, I will be baby proofing our home to ensure it is safe for our little guy. If you have a little one at home, or on the way, why not join me in making sure that your house is safe and free of hazards?
The following is a baby-proofing checklist that I created to help me keep track of all the baby proofing that I need to complete around the house. Feel free to print it out and use it to help baby proof your home as well.
Areas to Baby Proof
Electrical Outlets
Children are often intrigued by electrical outlets, which could lead to electrocution. Secure all electrical outlets with safety covers.
Furniture
Children who are just starting out standing like my little guy often use furniture to pull themselves up. If these large furniture items aren't secured to the wall they can fall over onto the child, which can be fatal. Anchor furniture and large TVs to the wall so that they do not tip over.
Window Coverings
Kids and cords don't mix. Dangling cords are easy for children to become entangled in, making them a strangulation hazard. Replace corded window coverings with cordless or inaccessible cord window blinds and shades. Look for the Best for Kids™ certification label when shopping for window coverings.
Learn more about window covering safety by watching the PSA below and visiting the Window Covering Safety Council.
PSA: Only Use Cordless Window Coverings with Young Children from Window Covering Safety Council on Vimeo.
Staircases
Use safety gates to block entrances to staircases.
Cabinets & Drawers
Cleaning supplies and detergents are often kept in cabinets, as well as other items that may be dangerous. Install safety locks on cabinets and draws to help prevent your little one from getting into them.
Sharp Edges
Sharp edges or corners on furniture can be dangerous. If a child bumps into or falls on a sharp edge it could cause a serious injury. Install edge and corner bumpers on any sharp edges to help cushion them to prevent injury.
Dangerous Items
Pay special attention to making sure that these items are stored safely where your child cannot get to them:
household cleaners
laundry detergent / pods
dishwasher detergent / pods
trash bags
plastic bags
scissors
knives
razors
medication
small items that are choking hazards
strings / cords
glasses or other breakable glass items
Printable Baby Proofing Checklist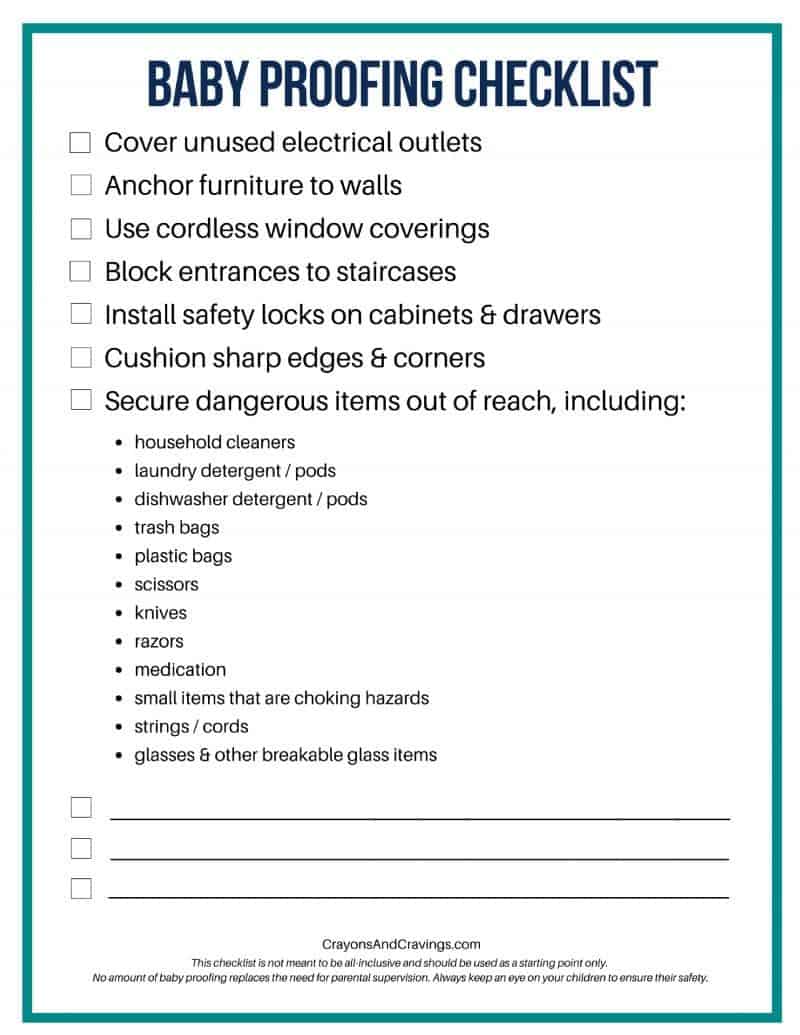 Download and print out a copy of the baby proofing checklist here. Use the extra lines provided to add additional child proofing tasks that you have to complete.
What are your baby proofing tips?
I hope that you find this checklist helpful in your baby proofing. Do you have any other baby proofing tips? If so, share them with us in the comments below!
Note: No amount of baby proofing replaces the need for parental supervision. Always keep an eye on your children to ensure their safety. This checklist is not meant to be all-inclusive and should be used as a starting point only.